It appears that Violets and Daisies are all over the internet! So I just had to share some neat things I have come across!

DISCLAIMER: I do not necessarily like all the content on some of the links here - rather I thought these particular photos/pictures/ideas were sweet and related to our blog, so thought you would like to see them too! :)
I love this sweet little card :)
From:
http://usa.stockfood.com/image-picture-Goat%27s-cheese-with-violets-and-daisies-on-ramsons-%28wild-garl-282751.html
Apparently this is goat's cheese - I'm not so keen on that personally! - but I did love the decoration!




From:
http://www.rubylane.com/item/590518-CC8131/Antique-Haviland-Limoges-Plate-Schleiger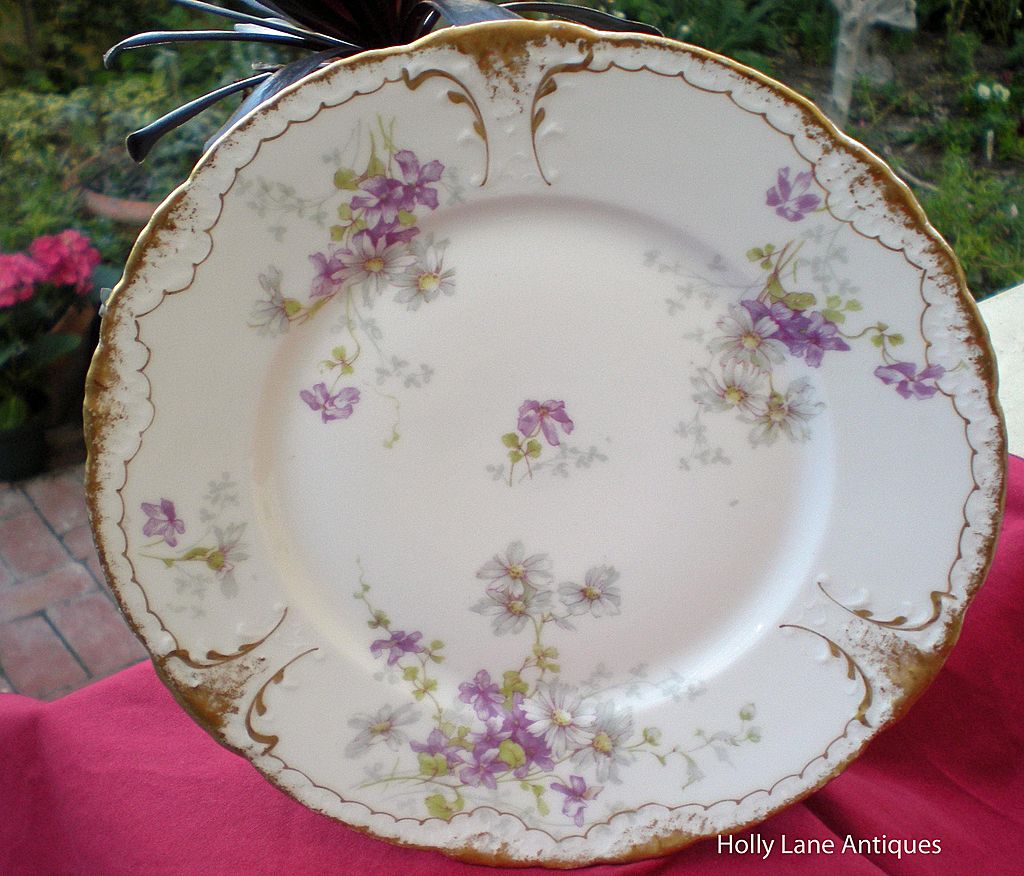 Wouldn't you love to be served food on a plate this elegant?
From:
http://collections.unionstation.org/detail.php?t=subjects&type=related&kv=91
Violets and daisies for breakfast anyone?
From:
http://cakecentral.com/gallery/1195613/daisies-and-violets
Oh, I wish I had a slice of this cake right now!!! :) Only it looks far too pretty to cut up!
From:
http://www.flickr.com/photos/8000874@N08/2446350097/
These violets and daisies in the kaleidoscope makes you a bit dizzy, but it looks neat all the same!


I don't think I could ever blow my nose on such a beautifully embroidered handkerchief.
From:
http://roses-and-teacups.com/beautiful-teapots.php
I confess it - I am addicted to tea parties! Isn't this the lovliest little teapot you ever saw?
From:
http://themuseinwoodenshoes.com/2010/11/
and
http://www.perfume-reviews-blog.com/womens-perfume/marc-jacobs-perfume/daisy-by-marc-jacobs/
What do you prefer? Daisy scented perfume ....
... or violet scented perfume? I confess that I'd never heard of either!
From:
http://lovelightandpeacebonnie.blogspot.co.nz/2012/05/violets-and-daisies-box.html
What a gorgeous little box. Something you could make at home, probably ...
From:
http://www.bestpricetoys.com/Daisies-Violet-Slumber-Bags-By-Cricketzzz/
Wouldn't it be lovely to have flowers all over your bedspread?

I hope you liked them! Please tell us if you see anything nice Daisy/Violet/Hyacinth/Lily related as we may be able to do another post at a later date! Have a nice day!
Violet